College Of Allied Health Sciences
Empowering health, enriching lives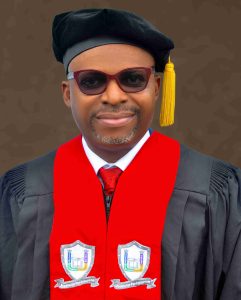 As the Dean of the Faculty of Health Sciences at Gregory University Uturu, it is my privilege to welcome you to our vibrant and forward-thinking academic community. Our faculty is committed to providing exceptional education, research, and practical training in the field of health sciences. At Gregory University Uturu, we take great pride in our state-of-the-art equipment and facilities that create an ideal environment for learning and research. Our faculty is dedicated to nurturing the next generation of healthcare professionals and leaders who will make a significant impact in the ever-evolving world of healthcare. Our faculty's mission is to not only impart knowledge but also to instill in our students a deep sense of ethics, compassion, and a commitment to the well-being of others. We believe in a holistic approach to health sciences education, where students learn to blend cutting-edge technology with a human-centered approach to patient care. Our accomplished and dedicated faculty members are here to guide, mentor, and inspire you throughout your academic journey. We offer a wide range of programs, from undergraduate to postgraduate, tailored to suit your career aspirations. I encourage you to embrace the opportunities and challenges that come your way during your time in the Faculty of Health Sciences. Whether you aim to become a physician, nurse, therapist, researcher, or any other healthcare professional, our faculty is here to support your dreams and ambitions. As Dean, I am committed to fostering an environment of academic excellence, innovation, and inclusivity. Together, we will strive for excellence in the field of health sciences and contribute to the betterment of healthcare and society as a whole. I look forward to witnessing your growth, success, and the positive impact you will make in the world of health sciences. Welcome to the Faculty of Health Sciences at Gregory University Uturu." The College of Health Sciences is dedicated to promoting health and well-being. Our programs cover a wide range of healthcare disciplines, including nursing, public health, and allied health professions. Graduates from our college are fully prepared to make a meaningful impact on healthcare delivery and community wellness. This college offers programmes in Medical Laboratory Sciences, Public Health Sciences, Radiography and Radiation Sciences, Optometry, Nursing Sciences, and Physiotherapy.
Prof. F. O. Erondu
Dean, College of Allied Health Sciences
Interested in joining Gregory University?
| S/N | Department |
| --- | --- |
| | Medical Laboratory Sciences |
| | |
| | Radiography and Radiation Sciences |
| | |
| | |
| | |